Carry on reading for the article below, if you'd like to view the webinar discussing the report and information below you visit our You Tube Channel
MENA region growth trends 2015-2021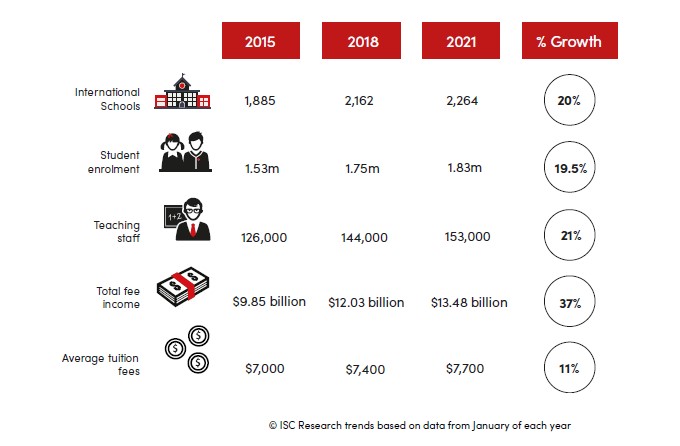 Key country data for the MENA region
| | | |
| --- | --- | --- |
| Country | International Schools | Student Enrolment |
| United Arab Emirates | 725 | 696,600 |
| Saudi Arabia | 292 | 319,600 |
| Egypt | 279 | 119,800 |
| Qatar | 207 | 181,900 |
©ISC Research June 2021
Extracts from ISC Research Commercial Market Intelligence Reports released during 2021
EdTech in the UAE
The right of all students to access learning, either exclusively or partially remotely, across the UAE has required an upgrade in edtech provision at almost every international school.
Most international schools now have established learning and communications platforms in place as well as strategies and tools for online learning in the future. When the schools were researched during 2021, the most popular platforms for virtual classrooms were Microsoft Teams and ZOOM with Google Classrooms following closely behind. The most common learning platforms included: Managebac, Seesaw, Engage and iSAMS.
International schools are looking for ways to manage student and teacher wellbeing through technology. When asked about how the use of technology in international schools is changing, school leaders reported using more responsive and personalised learning and assessment or increasing virtual reality and artificial intelligence provision within the classroom.
EdTech in Egypt
Since the emergence of the coronavirus pandemic, education technology has had to be implemented rapidly in many international schools in Egypt. Although schools have managed the expected challenges, they did not fully appreciate difficulties associated with poor bandwidth provision and the resistance from locals to online learning. As such, several schools reported difficulties getting students to engage online learning during the lockdown. Because parents value classroom-based learning and fail to recognise the utility of online learning, schools have received little support from families. Anecdotally, it was hypothesised that this lack of support was due to asynchronous teaching and learning; schools that were able to offer synchronous learning seemed to have better rates of student engagement.
Education resources in the UAE
Physical resources have varied value for international schools in the UAE currently. For younger age groups, international schools report having to obtain increased numbers of devices and resources. Whereas prior to the pandemic, resources were shared, now regulations require learning and play resources to have individual- or bubble-only restrictions. For secondary year groups, there has been a general movement toward online books and resources, with many schools stating they have no intention of returning to print resources due to their accessibility, cost and arrival challenges.
Education resources in Saudi Arabia
International school heads in Saudi Arabia have reported that some of the biggest resourcing challenges at international schools in Saudi Arabia are:
Getting books and supplies out of customs after the vetting process
Getting supplies on time
Teacher recruitment is problematic in the Kingdom
Recruiting teachers who are likely to stay longer term
Finding teachers who hold a bachelors or master's degree in education, or a specialised subject relevant to the job they are applying for
Islamic and Arabic staff must be Saudi nationals who can be expensive to employ and a challenge to integrate
To access the full reports and current data and trends on the international schools market in the MENA region, please contact us.