It's early summer 2008.  I'm sitting in a university library in England frantically putting together the final few paragraphs of my German language dissertation.  To my left is the dry but useful Hammer's German Grammar and Usage, to my right is my well-fingered Collins English-German dictionary. I swoop, without even looking and for one last time that evening, for the dictionary. In the past four years of this degree it's become an extension of my body, flanking my arms on a desk or being piggybacked around campus in my bag.  It weighs the same as a baby hippopotamus and has edges which could cut a diamond.
Fast forward 8 years, to 2016. I'd been teaching English for 6 years and after my experience learning and teaching foreign languages I came to the conclusion that standing in front of people, trying to get them absorb vocabulary, grammar and idiomatic expressions is about as easy as scaling Mount Everest in flip flops slathered in butter.  In the 6 years up to 2016 I had plied my trade, but very quickly I realised that I needed to offer more as a teacher.  My students needed more. So I did what any disillusioned teacher would do and bought 6 Go-Pro cameras, a tripod and some software, and started experimenting with web-based virtual reality taking panoramic photographs around London. I learnt some code, annotated some of the objects within those images and then uploaded them to a server so that my students with certain smartphones (i.e., those with motion-sensing features) could insert their device into a cardboard VR headset and get a sense of immersion in the English-speaking world with the advantage of interacting with their surroundings.  That was the turning point.
To have grown up and studied in a world where paper dictionaries to language learners were as vital as a scalpel to a surgeon, and then see the birth and rise of smartphones and their eventual transition into becoming windows through which you could view and begin to interact with alternative realities in 360 degrees profoundly changed how I viewed myself as an educator.  Having the ability to take students, irrespective of their physical location, to virtual worlds, letting them loose in vivid representations of the sights and sounds I had grown up with as a native English speaker, and supporting them pedagogically at the same time felt like ripping back the curtains of a new morning and feeling a multi-coloured flood of light hit my weary face.  Virtual reality now presented me as a teacher with an opportunity to begin to engage and educate students in ways that current textbooks, filled with their cheesy stock photos of butter-wouldn't-melt-in-their-mouth children in some feeble attempt to relate to the target reader, just could never do.
In the recent years which have followed up to today, 2021, we've seen another major step forward in our immersive possibilities; standalone VR headsets.  No longer are we forced to choose between smartphone-based VR or much more expensive hardware which requires a hard connection to a high-performance PC to run.  Standalone VR offers a much higher level of immersion but with the added benefit of not needing a smartphone or expensive computer to run. The headset has everything inside it for you to experience VR. But it doesn't stop there. Just as a marble carver needs more than just a hammer to create a work of beauty, a language teacher requires a number of tools at their disposal to chisel away at and sand down the rough edges of their students' abilities.
Enter webXR.  New advances in how web browsers can offer more interactivity and visualisation of 3D assets and environments mean that people can begin to not just explore content in creative ways, but tap into the range of tools already out there to facilitate the relatively easy creation of virtual and augmented reality experiences too.  It is precisely this - the availability of intuitive content creation platforms - which opens the floodgates to a whole new way of involving students in hands-on projects, building their digital literacy and collaboration skills to not only build their own immersive educational experiences on topics they're covering in class, but to virtually jump into those environments and meet their peers around the world in real time, sharing their creations and developing their communicative skills.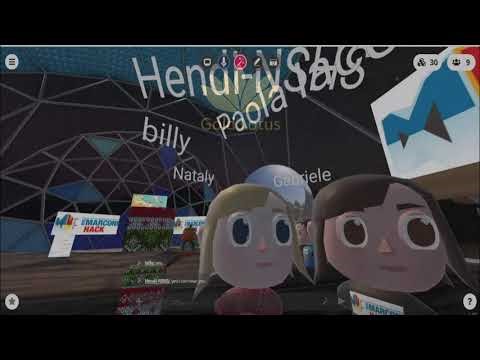 * Italian students using their virtual avatars as part of the VR for English and Future Skills program, presenting their work to American students.
Two stand-out webXR platforms are Mozilla Hubs and Frame.  The former - recently winning "Multi-user Experience of the Year" at the inaugural "Polys" WebXR Awards - has been my platform of choice for numerous projects in recent years, most notably "VR for English and Future Skills", run in an Italian secondary school which got students building their English language skills while creating their own VR experiences to promote their local cultural heritage.  They then presented their creations to some school students in the United States, guiding them around and sharing cultural stories.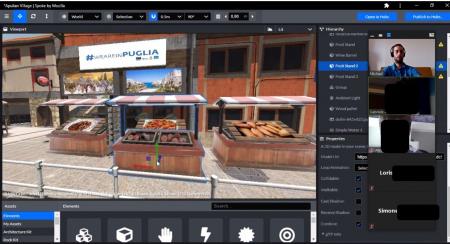 *The Spoke platform by Mozilla Hubs is an intuitive tool to support student content creation, building their English language abilities alongside important life skills such as critical thinking, teamwork and planning.
The latest project - a partnership between Gold Lotus and experienced webXR developer Matt Cool provides VR lesson plans and custom-built VR environments to English language teachers, helping them to take their first steps into using immersive media for their teaching - transporting their foreign language students closer to the real-life contexts where the language is spoken - with or without a VR headset.  Lingo Spaces recently launched and will continue to drive a change in how spatial computing fits seamlessly into the foreign language-teachers toolbox.

* Lingo Spaces offers carefully-crafted VR experiences for foreign language teachers to use across all devices.
A final example is the collaboration between Gold Lotus and the University of North Carolina's Immersive Learning Collective, headed up by Professor Lucia Binotti, where a VR experience of a Farmer's Market was created using Mozilla Hubs, and following the Task-Based Language Teaching framework which aims to get students using English in meaningful ways for everyday life.
Virtual spaces like these, brimming with features enabling people to view documents on a virtual whiteboard, watch and discuss videos and refine communication skills with the document and screenshare capabilities, all in real time and all offering - in just a few swift clicks - the ability to bring in 3D models and new environments on every topic under the sun.  Until now, the best I could offer as a teacher was physically meeting people at a specified location, for a class of an hour or two, but which comes with the hidden time and financial costs of getting to and from that location, not to mention energy-depleting traffic jams, delayed bus rides or sitting at chewing-gum-smattered desks in a building which barely has flushing toilets let alone central heating for those mid-December lessons.  Where webXR excels in my experience is that it blends the best aspects of the physical and virtual worlds - complete envelopment of individuals within an engaging and interactive virtual learning space, with the ability for everyone present to move around and gesture just like in the physical environment, but without the drawbacks previously mentioned. Ultimately, webXR enables people to get that much-needed interaction with a native-English speaking teacher in a way that has never been possible before.
This is just the beginning of a new wave of educational tools.  Those days learning a language with a dictionary, coupled with the odd opportunity to attend a school exchange program as a way of having contact with another language and culture are still very much the norm for language learners today, if they're lucky.  VR and webXR specifically are not, at this point at least, a silver bullet to language learners' and teachers' problems, but particularly for those who can't or don't want to physically attend learning environments, virtual collaboration tools like this certainly bring opportunity into a learner's world.  Considering the fact that we are preparing our youth for jobs which don't yet exist and that notions of what we can and can't do seems to be in a state of flux resulting from proliferating technological and social changes globally, it's no surprise that we're witnessing a growing recognition of the importance of collaboration and communication skills, of softer skills like empathy and adaptability in ever-changing contexts, as succinctly outlined in the OECD's recent publication "The Future of Education and Skills" and elaborated on further in Professor Rose Luckin's "Machine Learning and Human Intelligence" released in 2018, which helps us to re-evaluate what it is we humans can excel at.
Thanks to virtual reality, language teachers like myself are able to hurdle not only over physical boundaries but creative and educational ones too, reaching people like never before, providing a language education which is infinitely more than just simply teaching some vocabulary and grammar.  At its heart is the coming together of human beings within virtual environments, acting as a springboard towards new horizons in the physical world where, as in the virtual realm, there is unfathomable potential for a new age of learning and human progress.
Author: This article was written by Michael McDonald, Founder of the Gold Lotus project, which runs a number of VR language-learning programs.
For anyone interested in joining a VR English class or learning more about the services on offer, please visit the Gold Lotus project website at https://goldlotus.co/vrenglishlessons to schedule a free consultation.