"On land and in the sea, our forefathers lived and survived in this environment. They were able to do so because they recognised the need to conserve it, to take from it only what they needed to live, and to preserve it for succeeding generations." - Sheikh Zayed bin Sultan Al Nahyan
Since the dawn of civilization, humans have needed to learn about where they live - where to find food, where to build shelter and also what dangers are lurking nearby.
Fast forward to 2021 and those basic needs appear to be far behind us.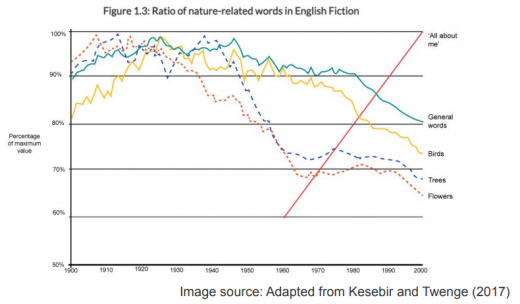 Ratio of nature-related words in English Fiction
We are now more concerned with material issues such as - how can I make more money? Where can I spend money? And more essential than ever, can I take a selfie whilst doing it?
We need to learn more about our natural environment in order to reconnect with it, and what better place to start than schools.
Promoting pro-environmental attitudes
Environmental education goes further than recycling. It also goes deeper than learning about animals in general. The UN Environment Program states that environmental education is 'a continuous and lifelong process, based on interdisciplinary approaches, active participation and individual and group responsibility for the environment'.
Those of us who are expatriate educators know that we have more knowledge of the biodiversity in our home country. Simply put, this is largely influenced by the amount of time we spent exploring as children.
Sadly, a recent study by Save the Children found that 92% of school-aged students feel that Covid-19 has affected the way they play, including time outdoors. Think back to the lock-downs and lingering precautions and it is hardly surprising. This emphasises that acting upon this is now more vital than ever.
A sense of belonging in a new city
Modern cities such as Dubai, Tokyo, New York and London attract families who are ambitious. But due to the transience involved in cosmopolitan lifestyles, children may be left feeling 'rootless' or disconnected from their new home.
This is why it is especially crucial for city schools to embed environmental education into their curriculum - it is a well known fact that time spent in natural settings has a positive impact on mental health.
With this in mind, why not enable the outdoors to support our most vulnerable students, such as those who have newly arrived in the country.
And it's not only great for teachers, a few hours in nature every week increases teachers' job satisfaction too.
Benefitting your local community
Relationships are built on trust and understanding - this is true for schools and wider society.
So in addition to the usual communication methods - consultation meetings, email exchanges and open evenings - why not consider community education too, in the form of environmental workshops.
The UN Environment Program strategy suggests that formal, non-formal and informal modes of education, such as public awareness and training, can encourage whole communities to take action.
It would also provide a context for new and unfamiliar subjects, like social studies in the UAE, which may raise the profile of environmental awareness and boost understanding of this important topic.
Time to take action
So has this inspired you to take action this World Environment Day? Join the movement at EnviroEd UAE, or pledge your commitment to one of the UN Sustainable Development Goals.