Thursday 11th February saw not only the celebration of International Women and Girls in Science Day but also the #FutureOfEdtech event!
The aim of the Global Edtech online conference was to reflect on the positives of the last twelve months in relation to edtech adoption, what works, what the evidence says and to share insights into how both educators and edtechs can make actionable changes to improve outcomes for learners on a local, national and global level.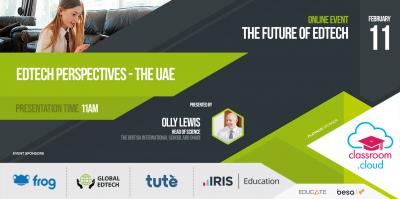 It was my honour to represent the UAE and give my perspective on where we are currently with respect to edtech and highlight what the future might hold. So here it is, and while some of the ideas here may be mine I am very much standing on the shoulders of giants and sharing their work too.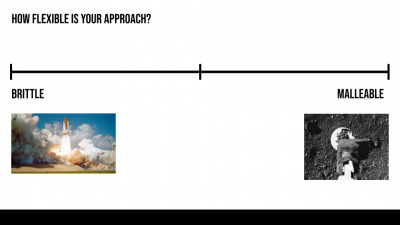 Over the last twelve months, I've been truly in awe of educators, both in my own school but also schools in general across the region, there's nothing like a pandemic to pull people together towards a common goal; educating our students.
It really has highlighted the flexibility in our approach, both as a school but also across the region, where schools transitioned into online learning in such a short window of time to continue to offer our students many of the aspects of their education they are accustomed to in a wider curriculum sense. Aligned with this was how well my own school, along with others, used pupil voice to help adapt their online offerings so that the other important facets of a holistic curriculum were still included such as the wellbeing of stakeholders and the wider offerings outside of the typical academic subjects.
Below is an infographic I made for our school, BISAD, to highlight the breadth and depth of our virtual school experience and I truly believe that comparative to others across the globe our students have advantages thanks to the work of all the stakeholders across the school.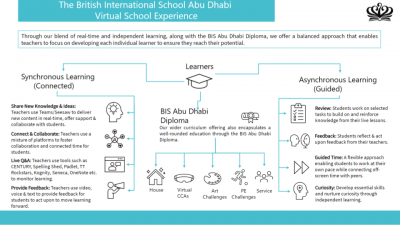 So where are we now in the UAE in terms of #EdTech?
The region has seen huge and fairly sustained investment in recent years and a recent report indicated that investment in VR alone was to rise by another 59% in the next few years. While this is just one example, the UAE alone expects to invest $23 billion in national ICT by 2024 and while this covers all sectors, the trickle-down effect will no doubt be felt by education at some point. Presently in education, many institutions are re-modeling classrooms, creating adaptive learning spaces and immersive learning experiences to support their learning and promote a personalized and experiential approach.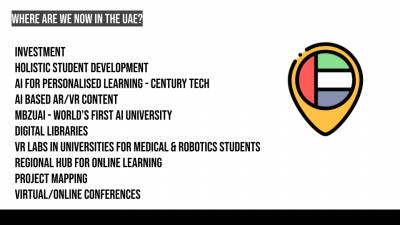 There's an ever-growing focus on holistic student development, the Moral Education curriculum is an example of the region's dedication to developing values around shared humanity and promoting character development so that students go on to positively contribute on both a micro and macro scale, promoting long-term societal and wider-world health and wellbeing.
The region is also a hub and early adopter of Artificial Intelligence in an educational context and for power advanced analytics for tracking data across the school using tools like PowerBI. Many schools adopted the use of AI platforms, such as CENTURY Tech or Alef Education, a few years ago and are now well versed in making impactful use of technology to help move learning forwards. In my own school, we have been using CENTURY for two and a half years, the platform enables staff to be data-rich and make evidence-informed decisions around learning in the moment while also reducing their marking workload so that they can spend more time curating the learning of all students. CENTURY is truly intelligent and digs down into each individual student's strengths and weaknesses, tailoring learning content to the individual accordingly all while feeding this information to our teachers while being driven by neuroscience and learning science. As a school, we have certainly seen the benefits and so have many other schools!
The UAE is also the home of the world's first AI university; the Mohamed bin Zayed University of Artificial Intelligence. Not only is this inspiring but university students in the medical and robotics field here have also been using AI in their labs in a range of universities for the past few years to drive learning and skills in real-world contexts.
In terms of online conferences, professional development, or simply the meeting of minds the region was quick to adopt this as a new variant of the conferences of old. Steve Bambury, a multi-award-winning educator in the region, has not only championed but pioneered #CPDinVR for many years now using Engage further highlighting the region as an early adopter and innovator. With #LearnLiveUAE running for a year now and other opportunities such as the GESS EdTech Summit and many more, there's ample opportunity for the education community to come together to feed both their minds and their relationships.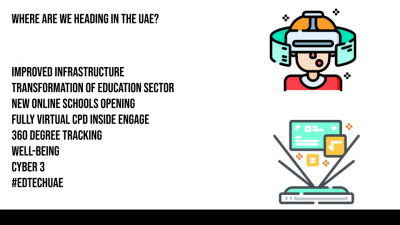 Where are we heading?
The region is looking to build on its innovations from recent years by enabling connected campuses across institutions, research and development labs, learning experience centres, and digitise student records all as a part of the digital transformation in all schools and education institutions.  Nationally the Cyber C3 platform "is the first of its kind in the UAE that is specially developed and designed to produce digitally literate and responsible UAE citizens."
A clear action from a region that wants to not only upskill all stakeholders across the region but also empower online safety by producing digitally literate and responsible citizens. Coupled with this wellbeing is also a focus in the region, The UAE Council for Digital Wellbeing aims to ensure the digital wellbeing of citizens in the region while finding the right balance between real life and our digital lives.
The UAE also holds one of the first full-time online-only schools in iCademy giving parents and students the option to enroll in a fully online school permanently. In terms of learning, a recent article from Niall Statham titled PE Lessons of the Future highlighted where EdTech in the region could and likely will go with wearable technology delivering real-time data for teachers to use while teaching, adaptive flooring and full circle tracking all to help drive the digital transformation of teaching. This is already in the pilot phase within Nord Anglia Education and my own school is testing out two immersive classrooms with 360-degree viewing and audio technology to give all viewers the optimum experience regardless of their location.
Educators in the region are also coming together to discuss all things digital across education in the EdTechUAE group which meet monthly to share ideas as somewhat of a hivemind. Whilst this may be occurring in other regions across the globe more formally, this is a grassroots style group of educators sharing their learning in what is a highly competitive marketplace because that's what educators do best; share freely so that others can learn and adapt to their own school context.
The UAE really is a remarkable place to both live and work; it's an eclectic mix of culture, values and innovation all rolled into one and I look forward to seeing where technology goes both across the region and within education in the coming years.
You can watch Olly's presentation using the link below. You can also read his blog here, follow him on Twitter here and find Global Edtech's website here.