It sits alongside the bilingual nursery but has its own identity as part of the family of schools within China. Since opening almost 10 years ago, the Chinese language had been taught as a specialist lesson for just under an hour per day. However, differentiating between those pupils who were new to Chinese and the majority who were native speakers or, at least, very fluent was not only a challenge for teachers but didn`t reflect the overall, child-centred and responsive approaches throughout the rest of the day.
Observing the impact of bilingual education on the social-cultural competence of the young learners next door in the sister nursery, we decided to pioneer a Dual Language Programme from 3 year olds upwards which would then feed into the Dual Language track from year 1 in the main campus. The programme aims to support our young learners to be bilingual and biliterate in English and Chinese and, at the same time, ensure the overall offer was enriched even further by children seeking to understand different people and cultures and learn to embrace differences.
I asked the leaders of the EYC to share the journey so far as the result is an outstanding example of early years practice at its best with the child and multilingualism at the heart of their strategic direction of this section of school.  Lucy Qu, Ass DH of the EY and Charlotte Knight-Benjafield, Exec Head of both the international and bilingual nurseries in Shanghai describe their aims and impact so far..
The Philosophy behind the programme:
With this unique age group, using what we know from research into early childhood development and how children acquire more than one language is key to its success. Therefore, a strong sense of attachment to familiar learning environments and adults plus building on the child`s first language are the foundations of the model. Moreover, transforming what used to be specialist Chinese teaching into more meaningful project-based learning and applying a child-centred pedagogy where pupils can make choices in their learning matches the chosen approaches in the EYC. This will not only prepare those who will be in the DL track from Y1 upwards but also enhance the cognitive benefits of multi- language learning in all our pupils. Finally, a greater focus on the dual culture aspect of the programme mirrors the Wellington values and acknowledges the breadth of Chinese teaching in the College.  We believe supporting children to grow passion and understanding of Chinese culture is the long-term sustainable way of learning Chinese.
The curriculum also focuses on achieving excellent standards of Chinese for native speaking children within the additional accelerated literacy programme as well as introducing higher levels of Chinese for non-native speakers. High standards of English are maintained alongside the Dual Language model at all times. This will not only prepare our EYC learners for the Y1 dual language track, but also enhance learning more generally through the cognitive benefits of multilanguage learning.
The Curriculum and its delivery
A Chinese Culture Curriculum, Reception Chinese Literacy Curriculum and Non-Chinese Speakers Intervention Curriculum have been designed to effectively target and enhance children's overall Chinese ability. Native Chinese speaking Dual Language teachers work with the main classroom teacher on the same class project and they join in weekly planning meetings together.
Timetables allow for sustained periods of time for meaningful teaching alongside play based learning as well as regular small group, adult initiated adult interventions and the following approaches support the differentiation needed;
•    Team collaboration and reflections occur daily between Chinese practitioners as well as linking the planning which is led by our foreign teachers to ensure continuity and connections in the use of vocabulary, expressive language and understanding Chinese culture.
•    Tracking progress carefully via classroom observations to ensure accurate scaffolding of learning and suitable levels of challenge for each child.
•    Assigning specific Chinese teaching teams to each class and year group and managing the amount of time allocated to native and non-native speakers to embed and practice new learning as well as extend those pupils who are ready to increase their fluency.
•    Planning and delivering interventions in small groups and using verbal reasoning and BLANKS questioning techniques daily. These range from the introduction of new vocabulary to asking pupils to express and present their views in Chinese.
•    Resources: Using differentiated resources to link children`s prior knowledge with current learning. These include books to support early literacy in Chinese for home use.
The on-going monitoring of the progress data provided by the Wellington College China EY Framework and its bespoke IT platform, Power BI ensures that the conditions for teaching and learning we create maximise the multilingual capacity of all our pupils. From timetables to curriculum mapping, embedding the model proposed plus any necessary changes will be based on the premise that:
•    Progress and attainment in Chinese communication, language and literacy is better from Sept 2021 onwards than in the previous academic year.
•    Progress and attainment in English communication, language and literacy is at least as good as it was in the previous academic year.
As the model is based on excellent teaching in the EY, it reflects a proportional balance of child-led, adult initiated and adult directed approaches. The % of time allocated to each will depend on the skills and knowledge being taught, the cohort and allowing for the time needed to check the pupils` depth of learning by how they willingly apply their Chinese in their play and at home. As the diagram shows below: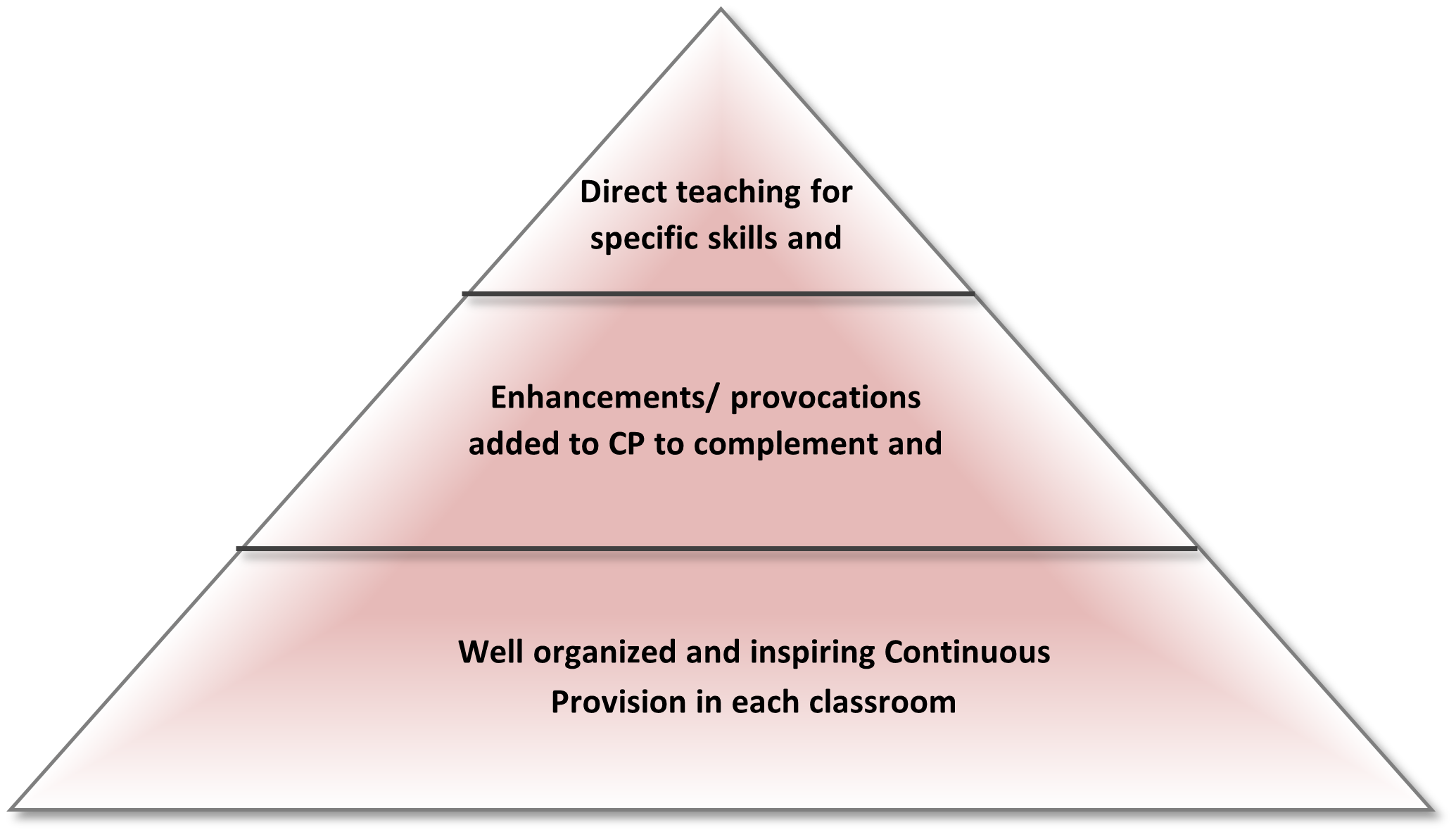 Improvements in the quality of teaching of the Chinese team have been monitored closely and are now visibly of an excellent standard. The TA to teacher programme which runs across our group allows for succession planning and a pipeline of Chinese speaking EY teachers of the highest quality is emerging and ready for further expansion of the approach.
So, where are we in the journey now, almost 2 years into the programme?
Data shows that attainment and progress in Chinese CL and Literacy have improved significantly for all pupils and that, just as importantly, English progress remains robust. Parental interest in the Dual Language approaches has increased year by year and there is a high satisfaction rate with what they see and hear at home from children whom are showing real enthusiasm for speaking in Chinese and the cultural aspects of what they are now learning. More native Chinese families especially are delighted with progress in Chinese literacy and they are choosing the DL track in Year 1 where the baton is passed onto the Prep lead, Catherine Ma. With the strong collaboration of DL and class teachers alongside TAs, the environment as the third teacher has equally been strengthened and the whole team understand how their individual roles come together in this multilingual approach. Next steps are to focus even further on non-native Chinese speakers, further develop pupil voice with more evidence of pupil involvement in the planning of project based learning and to actively enhance cross-campus and cross school collaboration.
Author : Fiona Carter, Director of Education, Wellington College International
Fiona has recently transferred from Wellington Colleges China, as their Director for International Business Development to Wellington Colleges International to be their Director of Education. Her role specialises in Early Years and Primary education and combines quality assurance with ensuring that all international schools in the group act as thought leaders in the educational provision they offer in existing and upcoming schools. Fiona began her international career with the consultancy group, Early Excellence as a trainer, speaker and specialist in the design of learning environments and went onto advising governments and school groups in the Middle East and SE Asia on academic strategy and governance.  Previous to this, she led in Local authority school improvement teams in SE England and primary schools in the north. Fiona is a strong advocate for the implementation of approaches such as PEEC and the Leuven Scales to ensure that pupil wellbeing and involvement are central to planning for progress and has recently worked closely with international assessment leaders and Principals to promote and advise on what is regarded as effective and inspirational values-based education.