Staff who are satisfied, feeling supported and valued give far more than those who are tired, stressed or feeling undervalued - wellbeing directly impacts any organisation.
The past two years have been challenging. The continuing uncertainty that has accompanied the pandemic and the unforeseen changes to a previously guaranteed calendar of milestones in every student's academic career, have all contributed to increased stress levels. Now more than ever we need to provide a supportive environment in which our staff and students can thrive.
Schools may provide an umbrella 'wellbeing scheme' with confidential counselling and referral services for more serious situations. This is important and we must provide support for our staff, however it's a reactive solution in response to a problem, rather than a proactive approach to address ongoing sources of stress.
Often proactive wellbeing takes the form of one-off initiatives – a wellbeing day or activity, such as yoga, showing appreciation by providing occasional cakes at meetings or recognising individuals for participation in projects with a shout out. It is understandable as these are often easy to organise. The challenge is that if a staff member is unhappy or does not feel valued, once the activity has been undertaken or the cake eaten, the situation remains the same.
There is nothing wrong with cake and yoga, but they are not the place to start, it's like trying to build a house from the roof down on shaky ground. However, if you ensure staff wellbeing is an integral part of the school culture, you create firm and strong foundations and wellbeing becomes something that simply happens each and every day.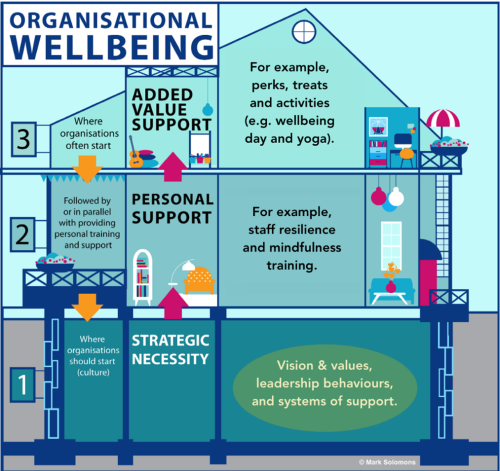 Research by organisational behavioural scientist, Professor Amy Edmundson, Harvard University, into factors that increase the performance of people and teams in highly successful organisations, found the most important consideration was psychological safety – how safe an individual feels in taking a risk, trying something new and if this would be viewed as acceptable, and supported by their managers and peers. The results of the study illustrate the need for balance between psychological safety and accountability.
A 2021 Nuffield report indicated the impact of accountability on education internationally, reinforcing why psychological safety is so important.
Where accountability is low, there isn't a need to deliver and nothing needs to change - this isn't something we usually see in schools.
When accountability is low and there is high psychological safety, there is decreased staff effectiveness and motivation because everyone remains within their comfort zone.
High accountability and low psychological safety, creates high levels of stress as staff feel unsafe and unsupported - 'you're only as good as your last set of results' - this is prevalent in some schools and is probably a greater cause of stress than workload.
High accountability and a psychologically safe environment, creates a learning culture and high performance. Staff feel supported trying new approaches, knowing that any initial bumps in the road will be recognised as part of the learning process. The school can develop at pace, staff wellbeing and job satisfaction is likely to be higher, leading to higher retention, lower absences, improved financial performance and raised attainment.
Creating and maintaining a culture of high accountability and high psychological safety benefits all. If roles and expectations are clearly defined and staff feel they can rely on their managers and peers and feel part of the community, they will better contribute to the school moving forward.
Make staff wellbeing top of the agenda - embed it in the school's shared beliefs, attitudes and values. Wellbeing should be reflected in school development plans and actively involve all stakeholders.
Communication is central - leaders must ensure everyone understands why actions are taken and staff feel able to give feedback and constructively challenge where appropriate.
Build management capacity - ensure that middle and senior leaders have enough time to lead and to plan for their own and team development. This is a real challenge, but the expectation that leaders can be efficient and effective when continuing to juggle significant teaching duties while trying to lead, is unrealistic and would not be expected in equivalent positions in other professions. Without time to plan, school leadership remains reactive rather than proactive.
Affording leaders time to develop their own skills and knowledge, however limited, will mean they are better equipped to lead others. They need time to consider the needs of the staff, how best to support them, provide opportunities to check in regularly and to coach. Ensuring CPD is meaningful, also helps reduce stress and improve wellbeing and performance.
Usually when I have a discussion about wellbeing with school Principals and their deputies, they nearly always start with that of their students. Student attainment and wellbeing are the highest priority, along with parents; staff wellbeing tends to come further down the list or as a reaction to an event. Yet given the significant evidence-proven benefits of improving staff wellbeing, there has never been a better time to elevate the wellbeing of staff to that of students and maybe even further - to put staff first.
Effectively measuring the school's current position, using a recognised and effective tool and tracking progress is important. If leaders don't know where the school currently is and do not systematically and rigorously measure the impact of action taken, improvements are unlikely to follow. After all, student attainment is never left to chance to see what future outcomes are achieved - previous and current performance is tracked and appropriate action is taken. Why should staff wellbeing be any different?
For more information on Welbee, please visit http://welbee.international