I was at a conference for schools recently and part of my frustration was that it feels as though we are going round and round in circles, with the same conversations with little change. 'What do you do to support student wellbeing', 'how can be better support staff wellbeing', 'how do you priortise your own wellbeing' and the list goes on. Meanwhile the data shows that year on year, the mental health and wellbeing of young people is not improving. Why is this the case? 
I have the upmost empathy for schools, having spent a decade working in the education system, I was able to see some of the challenges they face in terms of shoehorning many different mandated requirements into an already crowded schedule. I think that one thing all schools would ask for is time. This certainly gets in the way for some schools as they ask where they are supposed to fit the time in.  
However, what I have also noticed, is the way in which wellbeing is still treated like a bolt on. You will so often see any job related to wellbeing being attached to another position, the worst offender for this in my opinion is a 'head of safeguarding and wellbeing'. Taking the position as head of safeguarding is an enormous responsibility, whilst it is of course everyone's responsibility, taking accountability for it is no small ask. It would be impossible to find the time in any 40-hour week to devote enough time to both. It is refreshing to see some school add the title of Head of Wellbeing to their SLT, a move that I very much endorse. The position for Head of Wellbeing needs to be taken by an individual that has a qualification in that field, not someone that has a passion for it, this is where I feel we get stuck and why we aren't seeing the changes we desire generally. 
Mckinsey estimates the global wellness market at more than $1.5 trillion, with annual growth of 5 to 10 percent. In their 2021 paper, Kamalulil and Errna Nadhirah highlighted the rise in research in the field of wellbeing as illustrated in figure 1. As you can see, the sheer volume of research has dramatically increased recently and continues to rise, which on the one hand is fantastic as we gauge what's effective and what can be taught, however on the other hand, it's totally overwhelming. Keeping up with research is exhausting and it's moving too fast to maintain best practice.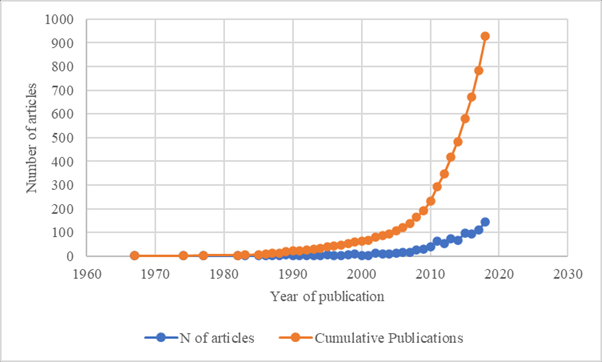 The annual and cumulative numbers of research articles on psychological well-being retrieved from Scopus database from year 1962 to 2018.
The use of growth mindset is a classic example where perhaps the latest research has not caught up with what is being taught in schools. 
Carole Dwecks theory has proved to be incredibly popular and has been widely endorsed. This is something that has been discussed in many schools in relation to improving academic attainment. A growth mindset is the belief that one's abilities and intelligence can be developed and improved through dedication and hard work. 
Some perceived benefits of having a growth mindset:
- Increased resilience: People with a growth mindset are more resilient in the face of challenges and setbacks. They see obstacles as opportunities to learn and grow, rather than as signs of failure.
- Greater motivation: When you believe that you can improve through effort and hard work, you are more motivated to take on new challenges and strive for excellence.
- Improved performance: People with a growth mindset tend to perform better than those with a fixed mindset because they are more willing to take on challenges and persist through difficulties.
However, in their 2022 paper, 'Do Growth Mindset Interventions Impact Students' Academic Achievement? A Systematic Review and Meta-Analysis with Recommendations for Best Practices', Macnamara and Burgoyne conclude that 'that apparent effects of growth mindset interventions on academic achievement are likely attributable to inadequate study design, reporting flaws, and bias'. 'When examining the highest-quality evidence, the effect was nonsignificant'.
In order to see change, the research is also very clear, we need to see cultural and systemic change in any organisation for it to be effective. With this bolt on like approach, it is sadly doomed to fail, leaving many more young people vulnerable. Schools are understandably feeling lost with regard to wellbeing, they need support.
Marquez (2022) wrote 'Driving Positive Change in Adolescent Wellbeing in the UAE' where he made five recommendations in relation to improving wellbeing:
1.    Nurture a positive school climate
2.    Support health promotion
3.    Invest in teachers
4.    Collect and analyse data, invest in local expertise, and embrace evidence-based policy and practice
5.    Empower adolescents
Whilst all of these are important for the overall success of any wellbeing intervention, for me number 4 is absolutely crucial. If we really want to see the needle moving in a more positive direction, we have to invest in best practice and make sure staff are in a position to be able to teach it. Much like the Geelong Grammar approach of learn, live, teach and embed, we would not want someone teaching our child English, Maths or Science without a knowledge in the subject area, let's not do that to Wellbeing. Perhaps one day, it will even become a core part of teacher training? 
Author : Mark Samways, Director of Wellbeing at the Free Spirit Collective 
Mark's Linkedin: https://www.linkedin.com/in/mark-samways-5b6603125/
Mark is the director of Wellbeing at The Free Spirit Collective, they help schools and organisations improve their wellbeing provision. He is also a CDA licensed Psychologist working with adolescents and adults through their mental health concerns.